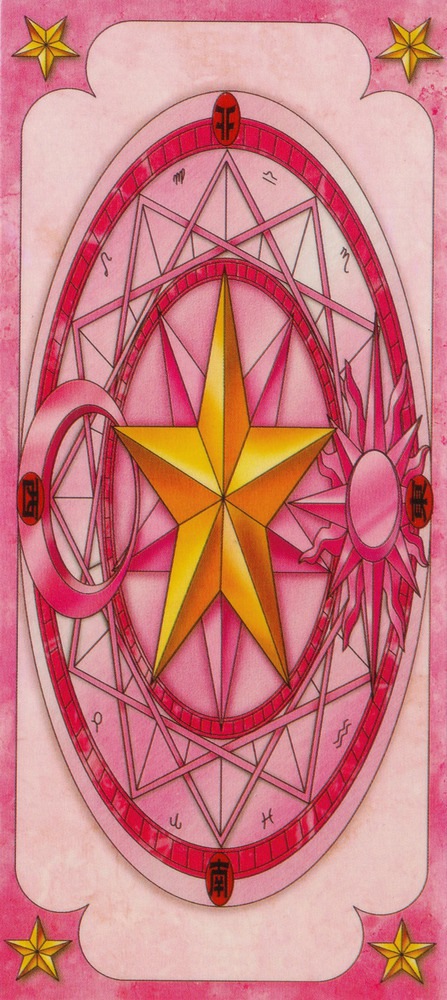 When the Clow Cards started to lose their magical powers and were in danger of becoming ordinary cards, Sakura used her magic to transform them into Star Cards. Transforming Clow Cards requires a lot of magic, and as a result, Sakura often faints or is sleepy after she changes one. This happens frequently when she first begins to transform them, and because of that, she is only capable of changing one card at a time. However, as the series goes on, Sakura's magic gets stronger, and she is able to transform multiple cards without experiencing any side effects. Eventually, she is even capable of creating her own cards! For example, when Sakura found out that Syaoran was leaving Tomoeda to return to China in Episode 70, Sakura created the Nameless Card.
Because all of the Clow Cards retain their names, forms, and magical powers after being transformed into Star Cards, the only major difference between the two is their appearance. The most notable difference is that Clow Cards are red while Star Cards are pink. Other differences can be noticed on both the front and back of the cards if you examine them closely.
Regarding the front side of the cards, Star Cards have a 5 pointed star featured at the top and bottom of the card, and the left side has a sun while the right side has a moon. In contrast, Clow Cards have a sun featured at the top, a moon featured at the bottom, and a 6 pointed star on the left and right side of the card. Another difference between Clow Cards and Star Cards can be seen where the names are written. At the bottom of the Star Cards, the names are written in a banner that looks like a ribbon and is curved at the top. The Clow Cards' names are also written in a banner, but it is curved at the bottom and looks like a scroll.
As far as the back side of the cards is concerned, the magic circle on the Clow Cards has a sun in the center and a small moon to the left, the moon being in the east direction. However, the magic circle on the back of the Star Cards has a star in the center, a moon to the left, and a sun to the right, the sun being in the east direction. Additionally, the Star Cards' magic circle features symbols from the celestial zodiac whereas the Clow Cards' magic circle contains different symbols. Finally, while both versions of the cards have a star located in each corner, the Clow Cards use a 6 pointed star, and the Star Cards use a 5 pointed star.
CLICK THIS LINK TO VIEW A COMPLETE GUIDE OF THE STAR CARDS!