Have you ever wondered why each CCS character's blood type is listed in their profile? The simple answer is that the Japanese believe a person's blood type corresponds with their personality. Each blood type is associated with different traits and offers insight as to why certain people get along with one another. Listed below are traits from each blood type along with a character from the series that has that blood type. The compatibility of each blood type is also listed below.

Type A:
Organized
Creative
Overcautious
Sensible
Picky
Punctual
Example: Sakura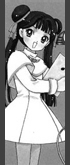 Type B:
Curious
Enthusiastic
Selfish
Sensitive
Unpredictable
Unreliable
Example: Meilin


Type AB:
Trustworthy
Efficient
Strict
Considerate
Indecisive
Sensitive
Example: Yukito

Type O:
Goal Oriented
Loudmouth
Competitive
Vain
Optimistic
Flexible
Example: Syaoran

Compatibility:
A is compatible with A and AB.
B is compatible with B and AB.
AB is compatible with all blood types.
O is compatible with O and AB.
| Character: | Blood Type: |
| --- | --- |
| Chiharu Mihara | O |
| Eriol Hiiragizawa | AB |
| Nakuru Akizuki | AB |
| Naoko Yanagisawa | AB |
| Rika Sasaki | A |
| Takashi Yamazaki | AB |
| Tomoyo Daidouji | A |
| Touya Kinomoto | O |