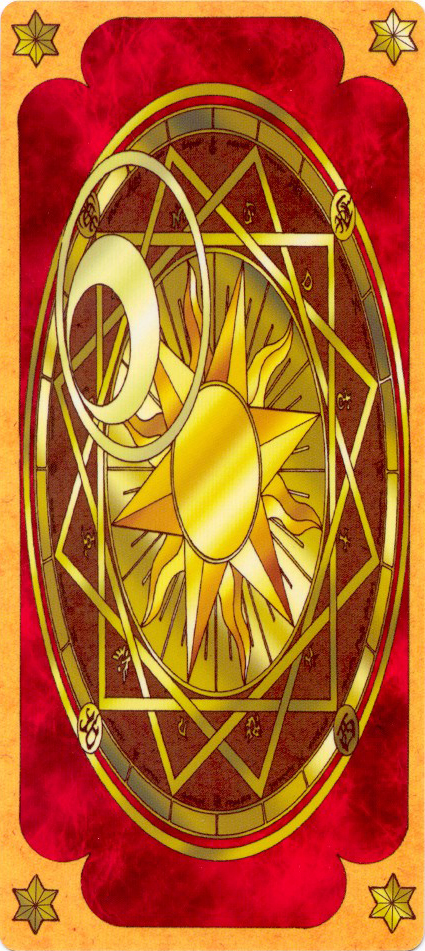 The Clow Cards were created by a powerful sorcerer named Clow Reed. He was so powerful that he was able to create the Clow Cards using two different types of magic— eastern and western. Each Clow Card is unique and possesses its own name, form, and magical power. The Clow Cards are so powerful that they need a master otherwise they will begin to act on their own. By writing her name on the bottom of each Clow Card, Sakura becomes their master and ensures that they will listen to her orders even when they are outside of the Clow Book. Because these cards have the power to act on their own, Clow Reed sealed them inside of the Clow Book and placed Cerberus, the Protector of the Seal, in charge of guarding them.
There are 52 Clow Cards in total. The four element cards (Earthy, Windy, Firey, and Watery) are the strongest in the deck because they contain magic that is more advanced than all the rest. This causes the element cards to be more difficult to use than a regular card because they require more magic. However, this does not always mean that they will be more difficult to capture. This is due to the fact that each Clow Card contains its own nature which determines how easy or difficult it may be to capture despite the amount of magical power that it has. For example, even though the Windy Card is an element card, it was still easy to capture due to its gentle nature. Additionally, a card's nature determines whether or not it can give aid when catching a card of the same power. For instance, even though Windy and Watery are both element cards, the Watery Card is able to overpower the Windy Card due to its aggressive nature.
Different Clow Cards are placed under different elements. Each of these elements is controlled by a certain guardian. For example, Yue has the power to control all of the Clow Cards that fall under the power of the moon, while Cerberus has the power to control all of the Clow Cards that fall under the sun. Because Sakura needs to capture the Firey and Earthy cards in order to restore Kero to his true form, these two cards are considered to be under the power of the sun. We learn that Time and Wood are under Yue's jurisdiction during the Final Judgement when Syaoran fails to stop Yue and Sakura is entangled by vines and branches instead of him.
CLICK THIS LINK TO VIEW A COMPLETE GUIDE OF THE CLOW CARDS!