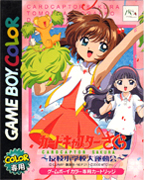 Back Cover: Picture
Cartridge: Picture
Format: JPN (Region Free)
Genre: Sports
Platform: Gameboy Color (GBC)
Player(s): 1-2
Publisher: MTO
Released: 8/6/2000
Summary:
It's Sports Day at Tomoeda Elementary School! Choose either the Red Team or the White Team and help lead them to Sports Day victory!
Gameplay:
1 Player Mode- Compete in a handful of mini games and try your best to win. The team with the most points at the end of Sports Day wins! There are 12 mini games to play in all! (The 100 Meter Dash, the Three-Legged Race, the Relay Race, the Obstacle Course, the Bread Eating Competition, the Big Ball Race, Tug-of-War, Kibasen, the Ball Toss, Kusudama Wari, the Baton Toss, and the Vault.) Both the Red Team and the White Team contain similar and different characters which have stats spanning the categories of stamina, speed, jump, and strength. These stats contribute to the mini game that you are playing, so choose your character(s) wisely if you want to win!
2 Player Mode- It is the exact same thing as 1 Player Mode except you use a cable to link two Gameboy Colors together and play with a friend!
Practice Mode- Play the mini games without going through the entire story. Choose one game at a time and view the instructions before playing each game if you wish.
Features:
Omake- From the Omake Menu you can get your fortune told, explore the print studio, change teams, or view the photo album. (The photo album contains screenshots from the game's cutscenes.)
Pocket Printer Compatible- Choose Print Play from the Omake Menu to create your own custom printable images in the print studio! You can choose text, a frame, and a CCS character. Text is available in hiragana, katakana, and English! You can even choose symbols as well.
Audio Clips- Each cutscene has a short audio clip of Sakura's voice that is relevant to the event taking place.