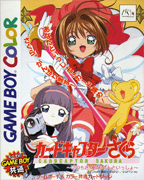 Back Cover: Picture
Cartridge: Picture
Format: JPN (Region Free)
Genre: Adventure
Platform: Gameboy Color (GBC)
Player(s): 1
Publisher: MTO
Released: 5/15/1999
Summary:
Sakura accidentally released all of the Clow Cards from the Clow Book! Help her capture them all before they wreak havoc on the world!
Gameplay:
Story Mode- Play as Kero-chan and help Sakura capture Clow Cards. However, you won't necessarily catch the cards in the same order that she catches them in on the show. This is due to the fact that the game runs in real time! (If you play the game at night, it will be nighttime in the game! Etc.) But, only certain Clow Cards appear at certain times of the day. Thus, you must play the game at different times to capture them! It isn't as difficult as it sounds, though, because the game breaks down time simply into three categories-- morning, afternoon, and night.
Features:
Omake- From the Omake Menu you can play mini games, get your fortune told, or explore the print studio. There are three mini games to choose from-- Tetris, Othello (Reversi), and Simon.
Pocket Printer Compatible- Choose Print Play from the Omake Menu to create your own custom printable images in the print studio! You can choose text, a border, and a CCS character. Text is available in hiragana, katakana, and English! You can even choose symbols as well.