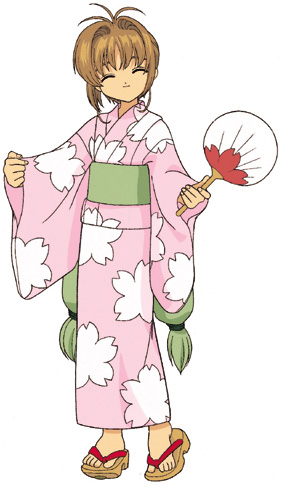 Featured in: Episode 18
Card Captured: Glow
Contains: Cherry Blossom Hairpiece, Full Length Yukata with Cherry Blossom Pattern, Green Obi, Wooden Geta with Red Straps, Cherry Blossom Fan.
Check Point: Kero's Costumes



Kero's Item: None
Kero Omakase: "Hey Hey Hey! Are you doing your homework? It won't end if you don't start soon! But it's not too late if you start after this segment. I'll make your head refreshed, clear, and aware! All right, so let's get started! This time I'll introduce Sakura's yukata to go with today's summer festival. The little booth shops and the round candle lamps it's such a part of our culture! Oh, I was introducing Sakura's yukata. It's a very cute design with a cherry blossom pattern. The matching hairpiece also suits Sakura well. Isn't it classy? Full force ahead, Kero's Check! This time I'm doing a special on all of my battle costumes! Man, I look so cool. I'm right up there with Sakura! I look good in anything after all! Well, the foundation is good so I look good wearing anything. I should have them make me a yukata next time. Look foward to it! See ya!"